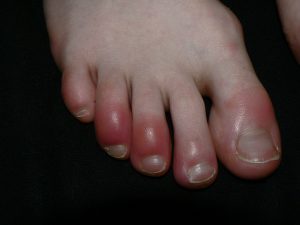 Brrrrr! With storm Emma just passing the temperatures have plummeted. With this can come foot related complications such as Chilblains.
Chilblains are small, red and itchy swellings that normally occur on the ends of fingers and toes in reaction to the cold temperatures.
Here are some helpful tips to avoid the development of this condition:
Always keep feet warm and dry
Wear thick socks and well fitted shoes
Don't warm feet near radiators use your own body temperature
Moisturise daily
Keep active to improve circulation
Reduce or stop smoking
If you suspect you have a chilblain please seek a local Podiatrist for advice and treatment :).