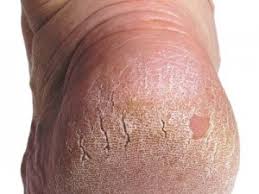 Foot Files: Cracked heels
 At Perfect Feet we see a lot of dry and cracked heels. This is not only a cosmetic problem but can be painful to walk upon if the cracks become too deep.
Why do your heels crack?
A few common reasons why this may happen include:
Open back footwear leaving skin exposed to the elements.
Diabetes or being overweight.
Hard skin builds up on the heel causing to dry and crack.
Certain skin condition like Eczema or Psoriasis.
Advice and treatment
After bathing use a pumice stone to gently file heels.
Use of a heel balm with 25% Urea in twice daily to rehydrate the skin.
Podiatrist use sterile surgical blades to safely remove any excess hard skin to the heels so moisturizers are more effective.
We will provide self-care tips.
Contact Details
Kieran Beenick Bsc (Hons) Podiatry.
HCPC Registered.
Member of the Society of Chiropodists and Podiatrists.
2 Bakery court, Market Street,
Ashby de La Zouch,
Leicestershire, LE651AN
Tel: 01530 414576
Mobile:07872857332
www.perfectfeetpodiatry.co.uk